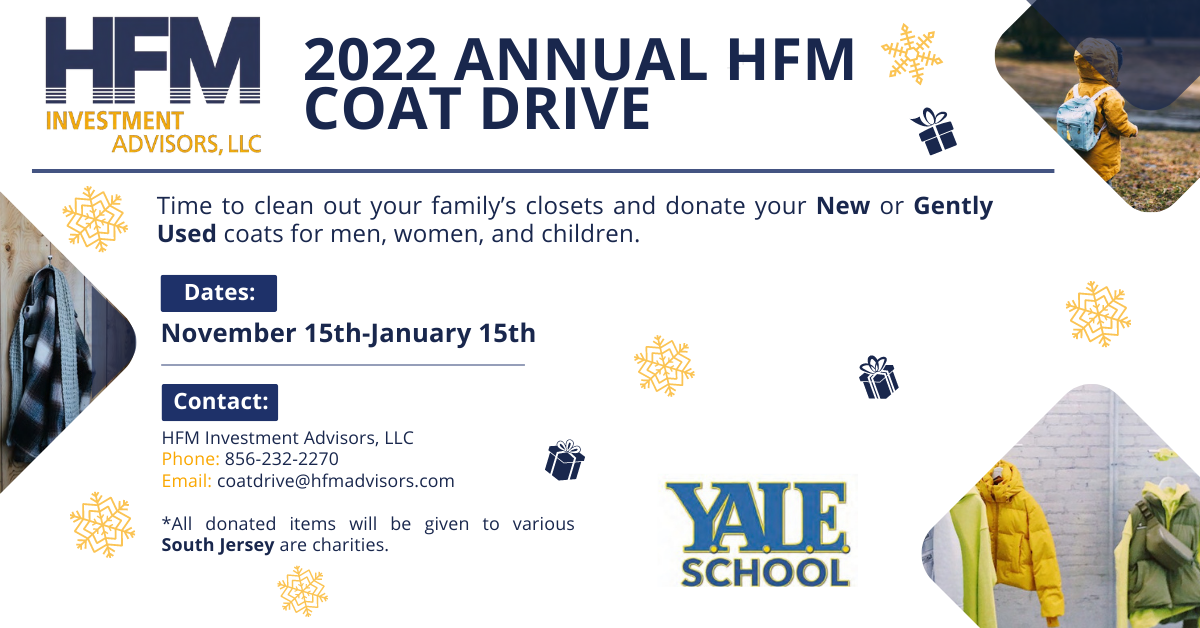 Our mission to provide a coat to every man, woman and child in need continues!  The HFM Investment Advisors' Annual Coat Drive will start on November 15 and last until January 15.
The HFM Team and our partners are excited to bring back this tradition which supports several South Jersey charities. Over the years, our community has collected more than 20,000 coats, and our goal is to far surpass that with your help.
Our drive accepts new and gently used coats for those in need.
Donating is simple with our several pick-up locations, and you can expect more sites added throughout the season.
| | |
| --- | --- |
| Jefferson Cherry Hill | 2201 Chapel Ave. W, Cherry Hill |
| The Arc Gloucester/Gibbstown | 401 HarmonyRd, Gibbstown, NJ |
| The Arc Gloucester/Aktion Club | 1555 Gateway Blvd, West Deptford |
| Mullica Hill Library | 389 Wolfert Station Rd, Mullica Hill |
| Wash. Twp. Library | 606 Delsea Dr, Sewell, NJ |
| Holy Family | 226 Hurffville Road, Sewell |
| HFM Investment Advisors | 102 West High St., Glassboro |
| Kennedy Fitness | 405 Hurffville – Cross Keys Rd, Sewell |
| Logan Public Library | 498 Beckett Rd, Swedesboro |
| Jefferson Hospital-Wash Twp | 3rd floor admin. /435 Hurfville Cross Keys |
| Brookdale Assisted living | 1 Brendenwood Dr., Voorhees |
| Grenloch ECC | 251 Woodbury-Turnersville Rd, Sewell |
| Birches Elementary | 416 Westminster Blvd, Turnersville |
| Bells Elementary | 227 Greentree Rd, Blackwood |
| Hurffville Elementary | 200 Hurffville Grenloch Rd, Sewell |
| TJ Elementary | 95 Altair Dr., Turnersville |
| Whitman Elementary | 827 Whitman School Rd., Turnersville |
| Wedgwood Elementary | 236 Hurffville Rd., Sewell |
| Bunker Hill MS | 372 Pitman Downer Road, Sewell |
| Chestnut Ridge MS | 641 Hurffville-CrossKeys Rd, Sewell |
| Orchard Valley MS | 238 Pitman Downer Rd, Sewell |
| WTHS | 529 Hurffville-CrossKeys Rd, Sewell |
| Wash Twp Board of Ed-Admin | East Holly Ave, Sewell |
| EMSL | 200 Route 130 North, Cinnaminson |
| Jefferson Hospital- Stratford | 18 East Laurel Rd, Stratford |
| Glassboro Library | 2 Center St, Glassboro |
| First Harvest CU-Corporate | 1615 Hurffville Road, Deptford Twp, |
| United Way of Glo County | 454 Crown Road, Thorofare,NJ |
| Hoffman Exterminating | 532 Bridgeton Pike, Mantua |
| Greenwich Library | 411 Swedesboro Rd, Gibbstown |
| Total Turf | 614 Lambs Rd, Pitman |
| Swedesboro Library | 1442 Kings Hwy, Swedesboro |
| Newfield Public Library | 115 Catawba Ave Newfield |
| Garden Realty | 901 Rt. 168 Suite 106 Turnersville NJ |